Oven Cleaning Services
How We Clean The Ovens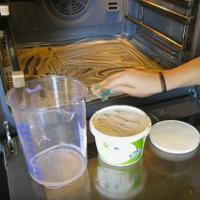 While cleaning, the professionals pay attention to the smallest details inside the stove and the removable parts of the oven. Even the hardest to reach spots are washed diligently. All removable parts are washed with detergent, extensively rinsed, and dried with towels. The oven is sprayed with detergent on the inside and cleaned throughout. The extensive rinsing process makes sure that there is not a single drop left from the cleaning solvents. Once the process is over the removable parts are put back to their places. This is when the cooking appliance is cleaned and polished on the outside. Finally, our experts turn on the cooker to test its working condition. Please note that a regular usage of this service can preserve your appliance for years.
The Convenience of a Clean Oven
There are enough reasons to decide to hire our oven cleaning technicians. Some of them are:
Clean cooking appliance can keep you healthy and help you enjoy every meal;
Thanks to this service the power consumption is lower and the lifespan of the appliance is longer;
The whole process does not took much time – you will have your appliance back in working condition in a matter of hours;
Only ecologically friendly detergents are used – the solutions are specially chosen to be highly efficient and also child and pet safe;
The grime, the germs, the mould, and any bad smell will vanish;
As a part of our oven cleaning service we can wash your microwave, BBQ, grill, extractor hoods, and cook;
You can inspect the results of every one off service when we are finished;
The Appliances We Clean
Single or double ovens
Extractors – we can also replace bulbs and filters
Cookers
Gas cookers
Ceramic cookers
Stoves
Grills
Microwaves
Fridges and freezers
Our employees use detergents and methods that remove even the most stubborn layers of grime and charred food. The sanitation agents are strong enough to destroy all hazardous bacteria and remove the charred food without damaging the cleaned surfaces.